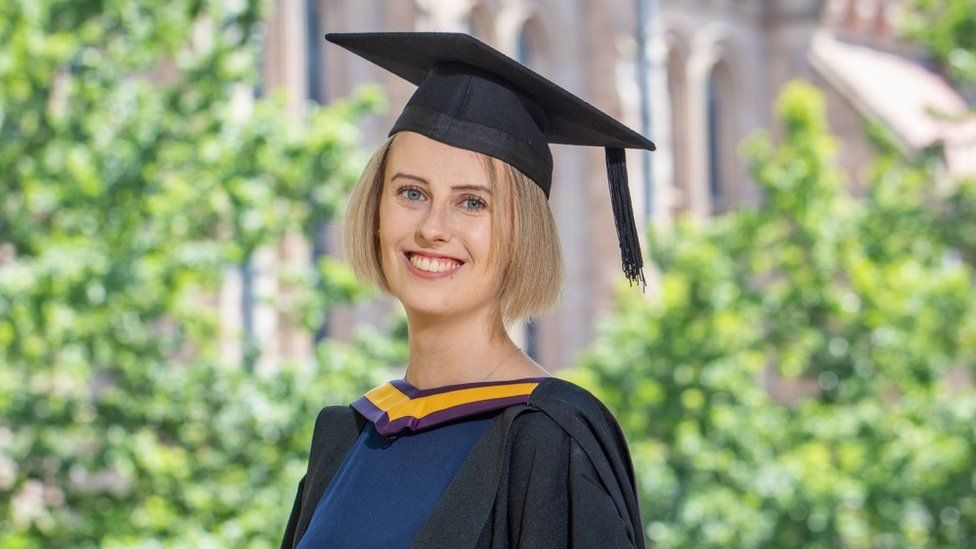 Diagnosed at age 18 after a routine eye exam, Laura inspired the world with her bravery and spirit. She and her family raised an incredible amount of awareness about GBM.
We are deeply saddened to announce that OurBrainBank trustee Laura Nuttall died on May 22, 2023. Read about her extraordinary life in the Guardian. The below essay from Laura's mother, Nicola Nuttall, was written before Laura's death, in 2022. 
Laura was eighteen and in her first term at university, studying International Relations at Kings College, London when she was diagnosed.   
She'd signed up to join the Royal Navy University Corps and as part of the mandatory medical she was sent for an eye test. 
In the weeks before, she'd mentioned a few headaches, just like mild migraines but there were lots of reasonable explanations; studying, freshers week socialising, maybe she just needed a stronger prescription in her glasses? She'd also mentioned a strange incident in which she'd gone from sitting reading text-books on her bed to waking up on the floor with a wet and bruised face. I had no idea what this meant but told her to speak to her GP about it. This just goes to show how completely clueless I was, I had no idea that this was obviously a seizure.  
Laura went for the eye test and was concerned when the optometrist identified something amiss behind her eyes. She made it very clear that Laura needed to get herself to Moorfields Eye Hospital in London immediately. In fact, Laura went back to uni first and attended a 2-hour seminar during which she struggled to remain awake then attended hospital early that evening.  
The doctor who assessed her wasn't particularly worried. He conducted a number of tests and said, 'We can't really see anything that looks especially worrying but will refer you at some point in the future to see a neurologist'. 
However, the next day Laura was really sick, vomiting constantly and suffering from a very severe headache. This triggered alarm bells, and so her sister Gracie and I took the last train from Preston to London, we took one look at Laura and knew something was seriously wrong. We helped her into a taxi and took her straight to Homerton in Hackney; the nearest hospital to her student halls. We told the A&E doctor about the optometrist's concerns and the unexplained floor incident and Laura was given a CT scan late that night. The doctor came back to tell us the news we couldn't have imagined in a million years, Laura had two brain tumours. The following morning Laura was sent for a further MRI scan which revealed it looked more like eight tumours.  
Laura had only been in London six weeks, and we had the heart-breaking task of repacking her room and bring everything back home. My sister-in-law, an oncology sister, helped us to arrange an appointment with a neurosurgeon at Salford Royal. He showed us the scans and we were horrified to see a golf ball sized mass above Laura's left eye, this was causing a great deal of pressure inside Laura's brain which explained the headaches and what we know knew to be the seizure. We were left in no doubt that this was extremely serious and Laura's very life was in danger.  
The surgeon believed that he could operate to remove the largest tumour, and scheduled surgery for a week later. Laura was sent for a number of additional scans because at that time they were pretty convinced that the tumours in her brain looked like metastasized secondaries from a primary cancer. They spent a lot of time trying to work out where the primary cancer might be and so Laura had a breast scan, PET scan & further CT scans to no avail. There was no sign of a primary.  
On the morning of the surgery, we instructed to have Laura at Salford for 7am.  Mark, Laura's dad, went in to check on her, and found her lying in bed, staring at the ceiling, he assumed she was just nervous or reflecting on the events to come. It took a while before we realised that she was in fact unconscious. She wasn't staring at the ceiling, she was completely unresponsive with her eyes open, then she had a massive tonic clonic seizure. It was horrendous, a scene straight from a horror film.   
We had no choice but to phone 999 for an ambulance which was only able to take us to our nearest emergency department rather than the specialist hospital where the surgery was scheduled to take place. We were naturally terrified that the operation was in jeopardy, but eventually managed to get through on the phone and speak to somebody in theatre, assuring them we were on our way.  
Laura had to go through the process of an A&E admission, and she was thoroughly assessed before we were quickly in another ambulance on our way to Salford Royal. She remained unconscious for the entire day and nothing we tried could wake her. The surgeon really would have preferred her to be conscious before he operated so he would know how she was responding but unfortunately, she remained stubbornly unconscious, and as her condition deteriorated the surgery became urgent, there was no time to wait. We were told we should leave the hospital for a few hours as she'd be in surgery for a while. Naturally we didn't want to leave, we wanted to be on site in case Laura needed us, but it wasn't an option and so Grace (her sister) and I went to a shopping mall and slept through a film.   
We got a phone call a few hours later to say that she'd come round, but she would need to be kept in an induced coma until the next morning, I stayed over in a B&B opposite the hospital. Laura stayed in intensive care and the following morning I held her hand as they brought her round, terrified that she might not wake up as the same person, that she might have been damaged in some way. We had been warned that the location of the tumour might cause her to lose the ability to speak or impact on her language skills. I squeezed her hand three times to say I love you and she squeezed it back four times to say I love you too. By the afternoon she was eating mint choc chip ice cream and speaking to her grandparents on the phone. It was the most enormous relief.  
She came out of hospital six days later, battered and bruised and needing the use of a wheelchair, but very quickly, she was back on her feet and fully functional. A week later we returned to the hospital for a meeting with the surgeon following the analysis of the tumour and to find out what we were dealing with. The diagnosis was glioblastoma, an aggressive grade 4 cancer of the brain and it was terminal.  
I'd researched all the various possibilities and I knew that glioblastoma was the very last diagnosis we wanted to hear.  
Laura asked the surgeon if she'd be able to return to university that academic year or would she need to take a year out. He shook his head sadly and told her he was very sorry, but she wouldn't be returning to university at all, she had 12 months to live, maybe only 3 without further treatment. We were absolutely devastated, heart-broken and incredulous. How could Laura have gone from a healthy student with her whole life ahead of her to facing a 12-month prognosis? It made no sense.  
Soon after, Laura began the next stage of the standard treatment protocol; a long slog of 3 months radiotherapy and a further 12 months of adjuvant oral chemotherapy.  
Right from the beginning we looked to find other options that might be available. From our own research, we knew that we needed to save the tumour tissue for future immunotherapy purposes. However, tumours can be diffuse and not especially solid on removal and the most important task for the surgeon is the safe removal of the tumour and subsequent pressure in the brain rather than the storage of any removed matter.  
We struggled to find the right person to talk to about the stored tumour tissue, nobody seemed to know who we should talk to, and we were bounced around looking for the right person to help us, hitting brick walls on a daily basis. Members of the public are not encouraged to contact the pathology labs but neither the surgeon nor the oncologist seemed to have the information we needed.  
We had decided to explore a form of vaccine immunotherapy (DCVax) with a company called Northwest Bio and our oncologist had assured us that he'd been told there was plenty of tissue frozen and available to use for this purpose. However, when their laboratory began the process of producing the lysate to make the vaccine, there was nowhere near enough, just the tiniest sliver. We'd fundraised the money required to produce the vaccine, but the treatment wasn't possible because we just didn't have the tumour tissue, this was utterly devastating.   
Laura went through radiotherapy for 3 months and then took chemotherapy drugs for a year.  Despite the surgeon's solemn declaration to the contrary, Laura decided to apply to Manchester University to study philosophy, politics, and economics and took up her place in September 2019. This was wonderful for Laura but a cause of worry for the rest of the family as she was still on chemo at the time and was very sick every month. Chemo really took it out of her, it was as though she was being poisoned, she lost her appetite completely and really struggled to eat which led to significant weight loss. Laura managed to keep studying but when COVID forced the country into lockdown, she studied from home, occasionally in her residential halls in Manchester and sometimes in Germany where she'd been having immunotherapy.    
As we were unable to go down the DCVax route we looked at other options available to us and found a clinic called IOZK in Cologne that offered an immunotherapy treatment involving electrohyperthermia alongside the use of Newcastle disease virus. They also offered a vaccine that could be created from Laura's white blood cells. In addition, we introduced a repurposed drug protocol from the Care Oncology clinic and a huge range of supplements to work alongside the standard treatment offered on the NHS.  
Throughout this time, we had also been working on an incredible bucket list of experiences to make the most of the time Laura had been given. As she'd lost her treasured driving licence, she was keen to drive as many vehicles as possible, this included a truck, a bus, a tractor, motorbike, tube train, digger, tank and even a helicopter. She travelled to New York to watch Saturday Night Live, crossed the equator, and went on safari in South Africa. Met Michelle Obama, went fishing with Bob Mortimer and Paul Whitehouse, jumped out of an aeroplane, went to the James Bond film premiere, and just generally lived every moment and filled all her spare time with new and exciting experiences.  
In March 2021 we were devastated to get a call from the oncologist to say that Laura's 3 monthly MRI scan showed that there was another tumour which this time looked like a meningioma. Despite the neurosurgeon's reassurances to the contrary, we fully expected it to be glioblastoma once again. Laura was admitted back into Salford for surgery, but this was a very different experience because of COVID which made the whole experience much more difficult as I had to leave her alone at the hospital and couldn't be with her when she came round.  
Following this second craniotomy, Laura was discharged the very next day. It was great to have her home, I didn't want her to be in hospital any longer than she needed to, but it was probably a little bit too fast. But she recovered well from the surgery even though we had been warned that a second craniotomy might lead to a significantly slower recovery.   
 Laura continued with her studies and despite feeling well and keeping busy, in December 2021 we were thrown in to despair when given the news that there was another tumour, this time in a different location. This tumour was quite deep and in the centre of the brain. Laura's surgeon warned that the surgery might only give her another six months to live, and it might leave her paralyzed because it was located quite close to the area of the brain that controlled the ability to walk, and particularly the use of her left side.   
Laura asked, 'Will I be totally paralyzed?' and was told 'No it would only be kind of waist down and probably only the left leg', so Laura said, 'Ok, that's fine, I kick with my right foot', which is fairly typical of her pragmatic positivity.   
Fortunately, the surgery did go well. She recovered astonishingly quickly and was home the next day once again. The following week Laura was a bridesmaid for her uncle and did a reading at the ceremony, the stitches in Laura's head matched the colour of her bridesmaid's dress. I don't know whether that was planned or just a lucky coincidence!   
Unfortunately, she's had to start back on chemotherapy but she seems to be tolerating it well this time round, or at least so far. We're still trying to come up with a more personalised treatment plan based on the genetic make-up of her tumour tissue, which is not something that's done as a matter of course.   
Primary treatment for glioblastoma is Temozolomide regardless of what the genetic mutations are. So as a family we're dealing with laboratories in Germany and in Los Angeles and using Artificial Intelligence to try and match up the best treatments for her personal mutations.  We have spent hundreds of thousands of pounds on treatment for Laura and we've been incredibly lucky to have had the support of our local community in raising funds and the comedian Peter Kay who put on 2 shows for Laura's fund last August.     
Laura is 22 years old and is now in her third year at university. She's only got one semester left before the completion of her degree.  She's managed to keep up with everything despite all the challenges she's faced and now she's just looking to graduate before her next challenge which will be finding graduate employment despite a terminal diagnosis.    
We feel that it's deeply unfair that access to novel and innovative treatments are restricted to those who have the finances to pay for them and the ability to travel to other countries to access them. As a family we have been shocked to find that brain tumours are the biggest cancer killers of children and adults under 40 yet in the UK this deadly cancer receives only 2% of the total cancer spend. 
This must change so that brain cancer has equivalent profile and research funding to other, less rare cancers.  
— Nicola, Laura's mum
Originally written in 2022
Follow Nicola on Twitter where she's a passionate advocate not only for her daughter, but for everyone facing glioblastoma and other rare brain cancers. 
Her website DoingItForLaura contains more about Laura, GBM treatment in the UK and Germany, plus useful tips and recommendations. 
SUBSCRIBE TO OUR NEWSLETTER