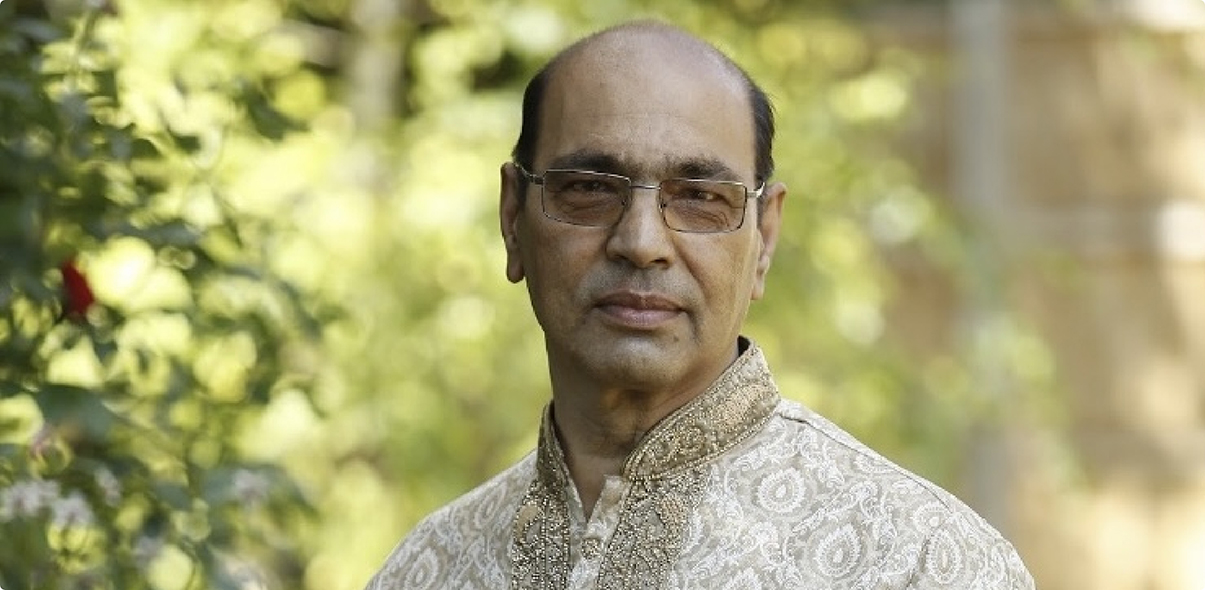 Liaquat, Maryam's father, was diagnosed with GBM in November 2020 and died six months after diagnosis. Maryam and her family acted as Liaquat's caregivers and have shared the difficulties they faced getting Liaquat treatment and advice they would give to others affected by GBM.
The GBM journey can feel like a battlefield in which there are very few people on your side. So, you learn to fight with what you have but more importantly you learn everything you need to know whilst fighting and become your own advocate. We were fighting to prolong our dad's life without impacting his quality of life. Unfortunately, the doctors did not think extending dad's life was possible, leaving us with no opportunity to attempt to do so in the UK.
Dad's symptoms came on gradually after the death of his mum in August 2020 and he was diagnosed in November 2020. Initial symptoms included sleeping more, balance problems and mild cognitive changes. We contacted our GP who referred dad to hospital. The main bulk of the tumour was located in the most inaccessible part of the brain. Usual practice is to do a biopsy, however the doctors suggested that due to the extent of the disease, a biopsy will do more harm than good and they were very sure this was multifocal GBM. We then organised a blood biopsy for dad which showed tumour markers consistent with GBM which further supported the doctor's diagnosis. By early 2021 dad's symptoms had worsened significantly.
Hope is what we were holding onto despite being told to 'go home and make memories as any treatment will do more harm than good'. We wanted to do everything possible to help dad. We reached out to multiple different oncologists in the UK for second opinions. However upon telling them who our acting neuro-oncologist was, some turned us away on the basis that the current verdict had been given by a very experienced oncologist and they would not advise otherwise. We then went back to the original neuro-oncologist and pleaded that they give dad Temozolomide (TMZ) because we knew he wouldn't want to give up – but the doctor refused the TMZ on the grounds that our dad had co-morbidities, albeit mild and very well managed. Dad received a few sessions of whole brain radiation but it was ineffective.
In addition to the doctors giving us a poor prognosis at the beginning we were also disappointed with the lack of empathy and compassion. At times it felt like the doctors were worried about their egos being damaged if we dared to discuss other options. One doctor told us that we are free to explore and go wherever we wanted in the world to try to get treatment for dad however he has never ever had anyone come back and tell him he was wrong.
Despite the doctors telling us otherwise, we did reach out to experts in multiple countries to get their opinions. Eventually we came across a doctor in Germany who has been treating patients with GBM with immunotherapy and chemotherapy. Although this is a relatively new treatment and needs further research, the doctor was able to provide us with positive examples of GBM patients who had received this treatment and shown some improvement. This doctor was honest, transparent and empathetic. We went to Germany to start the immunotherapy. Much to our amazement, once dad landed his spirits changed instantly. He was far more alert, emotionally present and was trying to communicate with us. It could have been that dad was glad to be somewhere where doctors are giving him a chance and therefore this had some psychological impact. It was amazing how knowing he was receiving some form of treatment impacted dad's well-being.  The first round of immunotherapy went well and we did a second round in March. We were then in discussions to try TMZ, but sadly dad deteriorated during that time and made his heavenly transition.
Dad helped raise six resilient, determined and caring children and was blessed to have such a caring wife. We teamed up on a mission to care for dad and give him the best chance and so we all naturally fell into specific roles: researcher, dietician, home care, consultations with professionals, cook etc. These roles were full time roles and despite spending every minute of our day with dad we still questioned whether we were doing enough. I'd be speaking to people in different countries early into the morning, not realising the time. It's unfair that we had to do all of that research instead of just being given all this information and being able to spend time with dad. We'll never get that time back. Looking back, I wish I'd maintained more of a balance which would have allowed me to be more present in the moment with dad. There are so many things to deal with including, accepting the diagnosis, hearing the prognosis, having to deal with the unknown and also dealing with an element of anticipatory grief. Alas, we had no choice but to keep moving forward.
There is a Facebook group called Glioblastoma Survivors to Thrivers which was a huge help in terms of advice and support. I would highly recommend people join this group. I was able to get opinions from people in similar situations, find professional contacts specialising in GBM and connect with and support others impacted by GBM. The amount of love, support and encouragement amongst group members is humbling and I have made friends for life.
A GBM diagnosis can be devastating. Due to there being no cure and a lack of research into potential treatments, people can feel defeated. Never lose hope or give up. Doctors can't play god. Be rational and practical about things but also maintain a healthy balance and remember that like everyone, no one is guaranteed tomorrow so try to make the most of every moment as a caregiver. Know that you can't control what happens and that there is no right or wrong when doing what you think is best for your loved one.
Our dad was our anchor and instilled values in us that we will always carry forward in life and which are helping us to come to terms with what has happened.
SUBSCRIBE TO OUR NEWSLETTER