Jessica Morris, the founder of OurBrainBank, lived five years with GBM.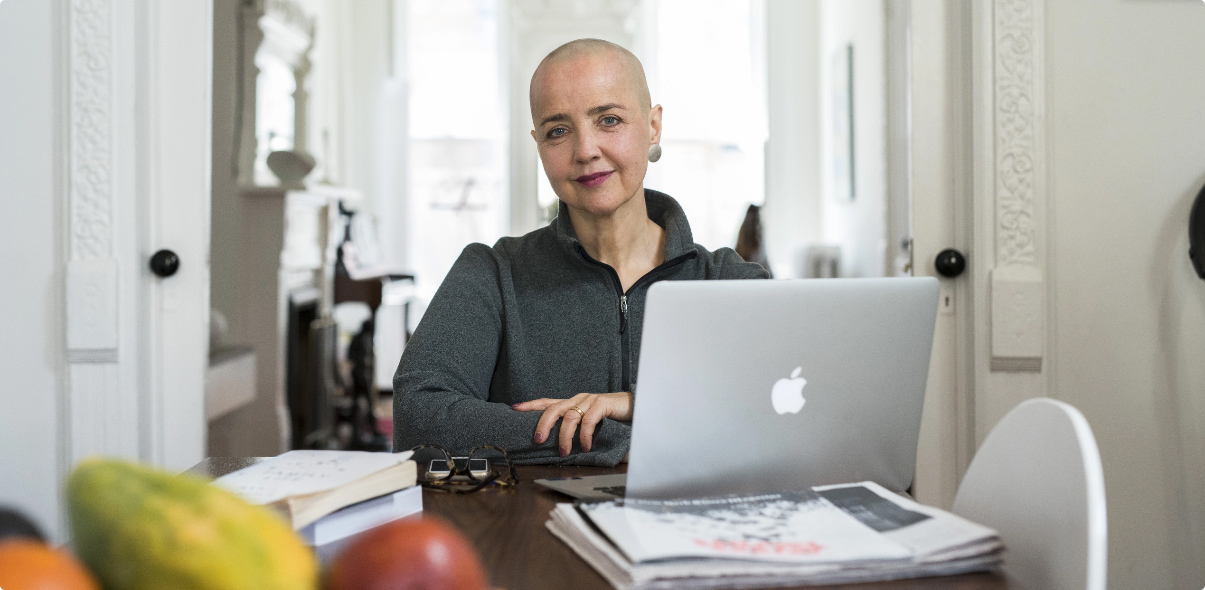 We are deeply saddened to announce that OurBrainBank founder & chair Jessica Morris died on June 8th, 2021 after a five-year fight against the brain tumor glioblastoma, aged 57.
Jessica led a life full of fire and passion, most notably in her work as founder and chair of OurBrainBank, a pioneering non-profit dedicated to turning glioblastoma — the deadliest type of brain tumor — from terminal to treatable, powered by patients.
Jessica created OurBrainBank after being diagnosed with glioblastoma in January 2016. She worked closely with her neuro-oncologists in New York and Boston and technology experts to found a movement that will live on, helping people living with glioblastoma and researchers seeking new and better treatments. Glioblastoma is the cancer that ended the lives of John McCain, Ted Kennedy, and President Biden's son Beau Biden. It has a median survival of 12-14 months with only 5% of people living longer than five years. Jessica reached the five-year mark in January 2021.
OurBrainBank was the fulfillment of Jessica's lifetime of campaigning and pushing for social change. It was the embodiment of her can-do spirit and her embrace of life even in the face of a terrible disease. All of us on the OurBrainBank board are determined to keep that flame alive, for Jessica, for everyone affected by GBM, and for a better future. Please help us do that by giving in her memory.
Jessica was blind-sided by the tumor. Hiking upstate with friends, she had a seizure and two days later brain surgery. Frustrated by the paucity of options and terrifying life expectancy, she enlisted fellow patients, neuro-oncologists, and tech experts to create OurBrainBank — the first non-profit created by, with, and for people living with GBM.
OurBrainBank is an innovative, patient-led movement collecting data from people living with GBM and sharing that data with researchers. Ultimately, the goal is to collect and share patient data and use artificial intelligence and computer learning to find new and better treatments. Launched in the US in 2017, OurBrainBank expanded into the UK in 2019 and a clinical trial in Australia.
Fabio M. Iwamoto M.D, Assistant Professor of Neurology and Deputy Director, Division of Neuro-Oncology at New York Presbyterian and an OurBrainBank Medical Advisor said: "When I first met Jessica right after her glioblastoma diagnosis, we both discussed at length the treatment options and how (euphemistically) suboptimal the outcomes were. She knew then that something needed to be done and that patients like her had enormous power."
"Despite being busy with the tumor treatments and looking after three children, Jessica found the time and energy to be a pioneering advocate of a new contract between the medical profession and the patient community. She connected thousands of patients in the US, the UK, and worldwide through OurBrainBank.  She always knew that this cause was bigger than anyone and her plan to donate her own brain for medical research and to set in chain an entire new practice which will fast-track our understanding of GBM and will benefit future generations of patients."
She poured her passion and determination into OurBrainBank and spent hours every  day offering support to fellow GBM travellers, working with OurBrainBank, and conducting research. She nicknamed her tumor "TEF" aka "The Evil F***-er" and wrote about her journey in her blog and an upcoming memoir, "All in my Head" to be published by Little, Brown in 2021.
Jessica provided hope for a better today, and hope for a longer tomorrow. In 2018, she was awarded the Hero of Hope Award award from the Academy Of Nurse Navigators. Jessica wrote two opinion pieces about glioblastoma and OurBrainBank in the New York Times.
In her professional career that spanned US and UK Jessica was a strategic communications consultant. She was SVP and Partner of FleishmanHillard when she was diagnosed. Previously, Jessica was recruited to a leading corporate and financial services consultancy Fishburn Hedges, where she was the first board director to work part-time when she started her family, and the first to win the IPR's Sword of Excellence. She set up the first international office of Fishburn Hedges in 2013.
Jessica's work included non-profits, in-house and consultancy positions, as well as government departments, with clients including Business in the Community, the Employers' Forum on Disability, Scope and Barnardo's, as well as Clear Channel International, Rothschilds, Barclays, and Mastercard. Her healthcare experience included the NHS, Department of Health, Novartis, and Johnson & Johnson. She was the founding chair of The Sheila McKechnie Foundation.
She served on the boards of the Institute for Transportation and Development Policy, the Committee On Sustainability Assessment, as well as on the communications advisory board of Human Rights Watch.
Born in Greenwich, London in 1963, Jessica moved to Brooklyn in 2006 with her husband, Ed Pilkington, Chief Reporter for The Guardian in the US and their children Felix, Tess, and Emma. She is survived by her mother Elizabeth, sister Frances and brother Ben.
Jessica was an inspiration to countless people living with glioblastoma and will be greatly missed. Her indelible spirit will live on in the movement she founded and led. While the prognosis of glioblastoma is grim, there are long-term survivors — though no one knows why one person goes on to live a long life and another has only a few months. By collecting and analyzing patient data and using emerging technologies like artificial intelligence and machine learning, it's hoped that one day researchers will crack the code.
Jessica lived to see the OurBrainBank movement grow from a one-woman operation to an international non-profit endorsed by major advocacy groups such as the National Brain Tumor Society. In May 2021, Jessica was able to see Kipling Beardsley, MPH, appointed as the organization's first CEO. Kip said, "It's an honor to stand on Jessica's shoulders and steward her legacy and her hope for a better tomorrow for people living with glioblastoma and their families and caregivers."
For years, Jessica ran popular online support video chats for her fellow GBM travelers. One young man blogged:
"Cancer is tremendously isolating… But your suffering does diminish, somewhat, when you stop looking to the surface dwellers for comfort, and start looking to your fellow sea monsters. The moment I began to see a glimmer of light from my fellow sea monsters — that they believed in me, even if no one else did — came from the incredible Jessica Morris of OurBrainBank. On a live chat, Ms. Morris enthusiastically greeted everyone — "Hello, Jamie! Hello, Patrick!" That was the moment. It wasn't a big thing; she was just pleasantly acknowledging me. One tiny little glimmer of unremarkable kindness, stacked up against an ocean of ignominious agonies and suffering. It made a difference. Which is a long roundabout way of saying: thank you Jessica."
— Kindness by Patrick Koske-McBride, Jan. 2020, Medium.com/@patrickkmc10er
Selected photos of Jessica are courtesy of Maria Spann @mspann
SUBSCRIBE TO OUR NEWSLETTER