Alex Bennett-Clemmow's Story.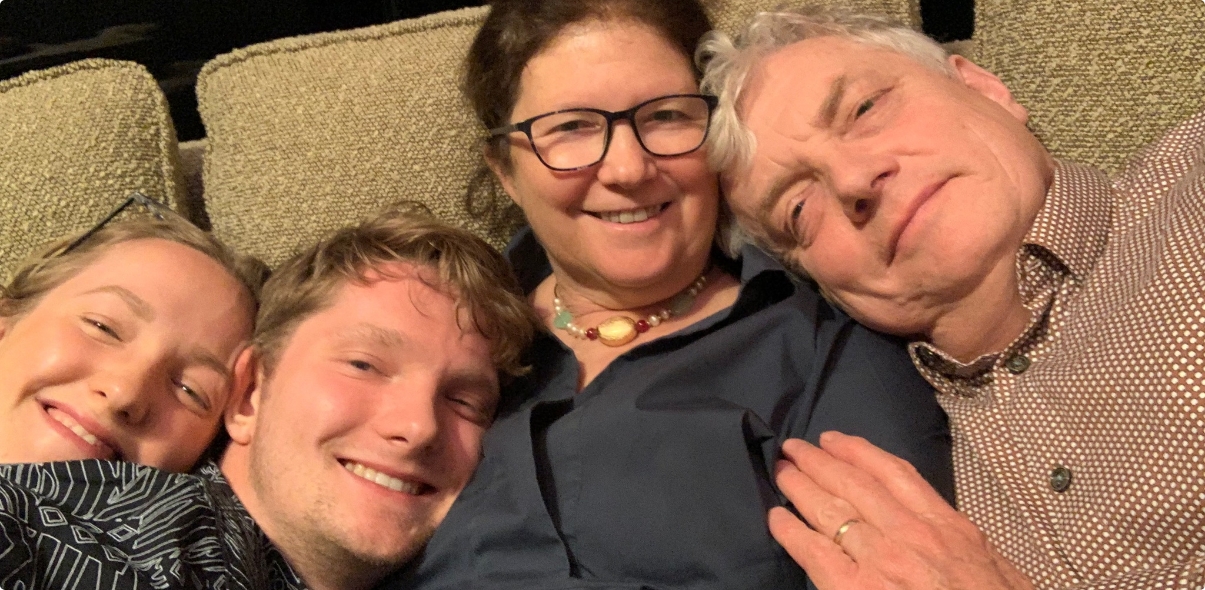 Alex Bennett-Clemmow was a carer for her mother Jana Bennett, who was diagnosed with GBM in 2019. A social researcher by profession, Alex supported her mother by seeking potential GBM treatments and helping with her care needs in Jana's home near Oxford. Jana passed away in January 2022, approaching three years after her diagnosis.
When we were told my mother had Glioblastoma, our lives and our world turned upside down. We first knew something was wrong when my mum was on a work trip to the US and was sounding confused on the phone. We thought she might have had a mini-stroke so my dad picked her up from the airport when she got back and took her straight to the hospital. He was also alarmed to see her dragging her left foot. At the hospital my dad took my mum into the A&E waiting area and asked her to stay there while he went to park the car. But she ended up wandering off and getting lost for almost 2 hours. My dad called me saying that things were not good and I immediately travelled to the hospital. In A&E, after some initial tests, the doctors sent my mum for a brain scan. By the end of the day the doctor said they believed it was a cancerous growth in my mum's brain. It was something that you never imagine happening.
After learning the cancer was glioblastoma the family went into a proactive mindset, trying to understand what it was and what could be done. We knew my mum was going to have surgery, but we wanted to find out as much as possible about what was involved and whether she had a good surgeon. My mum stayed amazingly calm through all this.
My family fell into different roles. I would be looking at trial data and journals, my dad would contact experts, and my brother would search for novel therapies. When deciding who would be the primary people we'd seek advice from, we looked for medical professionals we felt were intelligent, trustworthy, but also forward thinking. Working with medical professionals that you can discuss options with is important, as you don't want to waste time and energy butting heads. We regularly asked our doctors about alternative opinions that we had heard or read about to get their viewpoint. There's a misconception that undergoing treatment inevitably takes away from the patient's quality of life. This is sometimes, but not always true. I think often it gives quality of life. Obviously, a certain treatment won't work forever but for a period of time it can actually improve symptoms.
We also tried other approaches including supplements. We didn't focus on that as much as the main medical options because my mum didn't want to be taking lots of pills and she was a bit sceptical. Obviously, there are so many things you can do but there is a limit to what's reasonable and practical. We took lists of things that had been recommended by experts or we had heard about from other people with GBM and had them corroborated by other experts. You have to be careful when adding elements to ensure the combination is safe.
In the last year of my mum's life she gradually lost mobility. We would pick up on small signals that she was feeling frustrated or down about these functions not working as they should. It was during this time that, as we tried so hard to overcome the setbacks, we also saw the limit of treatments – when we couldn't do much to improve the symptoms she was experiencing. There is also a point where it becomes harder for the person to make decisions, so we tried to lay things out clearly for mum and talk through the options and possible outcomes, as far as we could. Ultimately, we wanted everything to be her decision.
We hadn't contemplated quite how serious the care needs would become. My mum had GBM for nearing three years. In the last year as she started to experience more debilitating impacts her care needs grew, so my dad, my brother and I spent a lot of time caring for her. Eventually she completely lost the use of her left side, which put her safety at risk, so by the end she was in a wheelchair. The danger of falls was a big concern. She'd also developed some cognitive impairments. I think access to care is critical and we seriously needed it around that time. We got to a point where we were really struggling with all the care required, even with the support of multiple family members. We thought ok, let's get carers in a couple of times a week to give us a few hours break.
In fact, getting the care in place was difficult due to lack of availability, or because we were outside catchment areas. We tried a couple of private carers but they didn't work out. One found the situation too challenging and the other wasn't the right personality match for my mum. It wasn't until a few weeks later, after my mum was in hospital following a fall, that we actually managed to get a care package in place through the NHS. Even though she was ready to be discharged the next day, mum had to wait in hospital an extra two weeks while the care package was put in place and equipment delivered, which was frustrating and not great for her morale.
A lot of the time a care agency will say, 'we'll pop in and do the change of clothing in the morning then we go off on our way'. Actually, sometimes what a family needs is someone to come and sit and chat for an hour to give them respite, and to make it more pleasant for the person they are caring for. At first, we were quite resistant to getting care and I think a lot of it is not wanting to accept that the situation is getting more difficult and not wanting a 'stranger' to be involved in something so personal. But getting care is really important, a lot of people struggle until it's too late. My dad suffered a hernia from the strain of helping lift my mum. Then there's the emotional strain of dealing with so much. I think we need to frame care as a positive thing. Towards the end, having outside carers there to support us to do nice things, like taking mum to the theatre or just sitting and chatting with a cup of tea. It helped take some of the pressure off and let us enjoy more precious time together.
SUBSCRIBE TO OUR NEWSLETTER